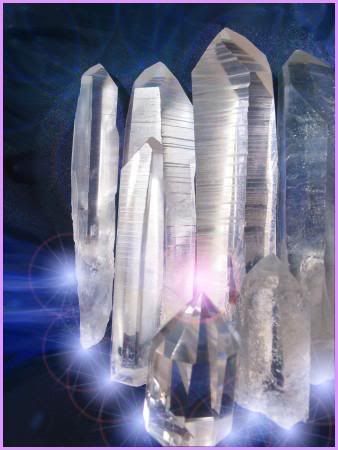 Sacred Geometry of shapes is mathematical and involves numbers that have a sacred vibration that can be used to anchor yourself and the Earth Mother much positive and potent energy and light at this time.
Number nine is a humanitarian number; it brings beings together within a circle, but it is also about completion. It is a chemical process that allows a transmutation, a change, a completion to occur.
Change is powerful healing.
Coming soon is a very sacred day of 9-9-9, a triple nine, a three-fold completion which can work on the individual as well as on the Earth Mother on three levels: the physical, the emotional and the spiritual.
If you open yourselves to these energies at this time and work to bring the energies into the Earth Mother, then you will also be substantially healing yourselves. We are all connected to everything so we will experience this no matter where in our lives may be at this point.
As a portal opens up within the Earth's Core connecting with a portal shining down from the center of the Universe on this day, the connection will activate a major shift in the ascension process of the planet.
This sacred time must be used wisely by those working as Lightworkers to assist in this anchoring of light into the Earth Mother and subsequently into the hearts of humanity, through the Crystal Grids placed upon the Earth at ancient and once-sacred sites and places all around the globe.
I and other Ascended Masters, as you choose to call us, but remember we are only another you, are working with very many people at this time to bring this about. If enough people gather together in groups at the 9-9-9, and on other sacred days, 10-10, 11-11, 12-12, Solstices and Equinoxes, Cosmic-influenced days, then activations can begin to work on the Crystalline structures deep within the Earth Mother and so help to anchor the higher frequencies into and on to the Earth.
Crystals act as transmitters and receivers and when placed in sacred geometric formations at sacred and special places by humans who are working to awaken their own sacredness within themselves, then what you are doing is creating a powerful portal for the energies of the Divine Cosmic forces that will raise the vibration of every soul on Earth who is open and awakened at this time. They act as a catalyst for those who are only now becoming ready to awaken and will need help in adjusting and accepting.
You are all connected to all that is, and so cannot avoid this powerful ascension process, yet you all have choices. You can choose to welcome and embrace the adjustments, and find your lives becoming freer, easier and happier. [Or deny yourself the connections, fight the changes, see life become chaotic and traumatic]. Use this time dear ones, to align yourselves with these powerful energies so you can accept the chemical processes taking place and step into your own transmutation process, become who you were born to be, become your destiny, for you all have one. Some may seem greater than others, but only in your minds. For us, for the universe, you are all divine beings and all have the momentous ability to become your own destinies.
You are all perfect. Why else would you be incarnated on Earth at this time, if there were not some divine purpose to your being? Do not compare yourself with others. Wake up to yourself and get on with building your own destiny. As you do the problems you perceive will disappear and you will realize you are another them, another us, another part of the whole. You are the problem and you are the cure.
Crystalline structures of the Earth Mother became dormant from lack of reverence, respect and proper use, depleted by abuse upon Earth Mother.
But now waves of light are revealing that enough critical mass of spiritual energy is rising again upon the Earth and within the hearts of Her human children, to allow the Crystalline grid to begin to stir and vibrate once more.
Your participation is much needed to keep momentum flowing so the original purpose of anchoring light into the Core of the Earth mother and into your own DNA structures can begin to take place again. No matter what your path or calling in life, what station of living you enjoy - or not as your choice may be - you are all capable of being open to the potential of energies for change.
Accept your own capabilities; do not measure against another, against your level of material wealth; these things are unimportant; just accept your ability at this time, and embrace the sacred 9-9-9 day as a day to commit yourself to working with that change at whatever level you are able to.
Many of you are being called to gather groups together for special ceremonies with crystals at this time. If you are one of those then please continue to do so; soon more will come to you. Gather your families, friends and all those who show potential to work with the ceremonies and sacred energies. Continue to teach and spread your light wherever you go, for that gift you give at this time is of utmost importance.
Do not despair if you are not receiving direct communication or instructions. It doesn't mean you are any less than other Lightworkers. It means your true soul work lies in other areas : with the Earth, reform in the work place, bringing spirituality to the fields of your material plane, or perhaps working directly with the land or the creatures of the land, sea and air.
There are many roles at this time and not all will be seen as spiritual, but please know that they are all hugely important. Listen to the calls of the Lightworkers and join your energies with those that gather in ceremonies; this is important so you bring energies together in a powerful circle.
There is no place now for separation, for working alone; that is in the past. More important is you work together in powerful groups, the larger the gathering, the stronger the power of the energies will be; all the better for the Earth Mother and yourselves. Let go of ego inflations, jealousy; issues of fear, doubt or lack. Let go and join together. Do not fight the change.
You are the same matter as everyone else, as everything else: you are a vibration, a frequency of sound and light. Step into your own oneness, & then you see your oneness with all peoples, all creatures, all stones and plants. Believe this or not as you choose, but it is so, for you are all part of one vibration that can be heard in your own heartbeat, in the heartbeat of your physical Mother and Father, in your neighbours' heartbeat, your children's heartbeats, your pets and familiars and those of the wild creatures. The sound can be heard in the Earth Mother Herself, the Great Goddess Gaia and you are the same.
Come together at this time in your Mind Groups, your Soul Groups, physical groups and feel reconnection through the crystalline grid.
channeled by Whitefeather August 29, 2009