One with The Divine
"We and the Father Are One"
Hookup to our Planetary Logos, Sanat K**ara

When we invoke The Great Invocation, there is an important symbolic significance of the points of contact we are making in the way we connect with this great being. For the Planetary Logos, the centers referred to in the Invocation could be said to be chakras.
When Sanat K**ara hooks up in meditation to the Solar Logos, Shamballa ~ or the Will of God ~ is their point of union. We are asked to connect there with Them, and in this way to embrace the Plan of Love and Light, for as humanity we belong to the throat chakra of the great being, our Planetary Logos.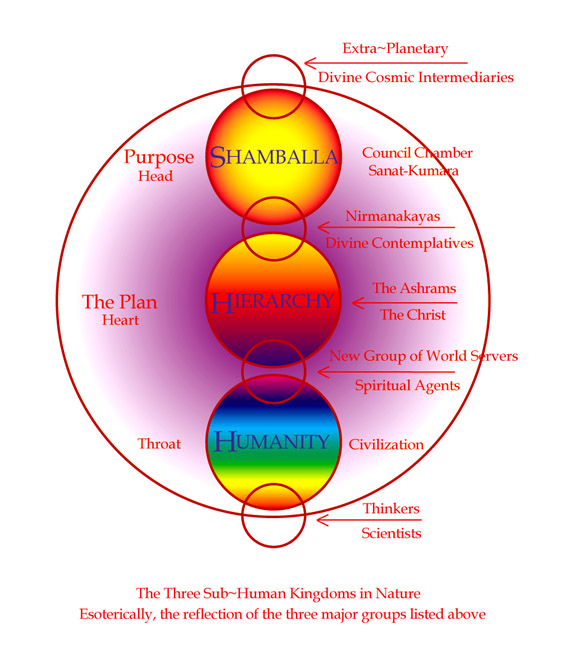 The Point of Light within the Mind of God
Here is the Head Center, the directing center for the Hierarchy, Shamballa. As it constitutes the synthesis of understanding insofar as our Earth is concerned, Shamballa is also the center where the highest Will of the Solar Logos is imposed upon the Will of our Planetary Logos, Who is part of a center in the Solar Logos's greater body of manifestation.
The Point of Love within the Heart of God
Heart Center
The Hierarchy
The Centre where the Will of God is known
Head Center
Shamballa
The Center which we call Humanity
Throat Center
* * * * * * * *
Credit for adaptation and synthesis:
Chart given in Discipleship in the New Age Vol. II, by Alice A. Bailey, p. 214;
© Lucis Publishing Co., 120 Wall St., 24th Floor, New York, NY 10005

SouledOut.org